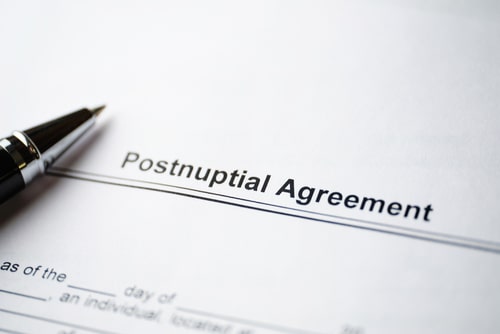 Even the most happily married couples can benefit from drafting a postnuptial agreement. Though it may have been better to sign a premarital agreement before tying the knot, a postnuptial agreement can still enable both parties to protect their interests in the event the blissful union comes crashing down in the future. For help with drafting either a premarital agreement or postnuptial agreement, consult an experienced and qualified lawyer.
What is a Postnuptial Agreement?
Premarital agreements occur before getting married. Both parties sign a contract defining what belongs to them and remain with them should a divorce happen sometime after saying their vows. A postnuptial agreement, or postmarital agreement, is similar but happens after the marriage has already started.
In a postmarital agreement, each spouse will decide which future assets should belong to whom in case they ever choose to dissolve the marriage. You can think of a premarital agreement as legal protection for the past, whereas a postmarital agreement protects your assets for the future.
...